Sermon Handout
Scripture(s):
Revelation 12:9 - 12
Revelation 14-18
Our Adversary: 2 Cor. 2:11 "so that no advantage would be taken of us by Satan, for we are not ignorant of his schemes"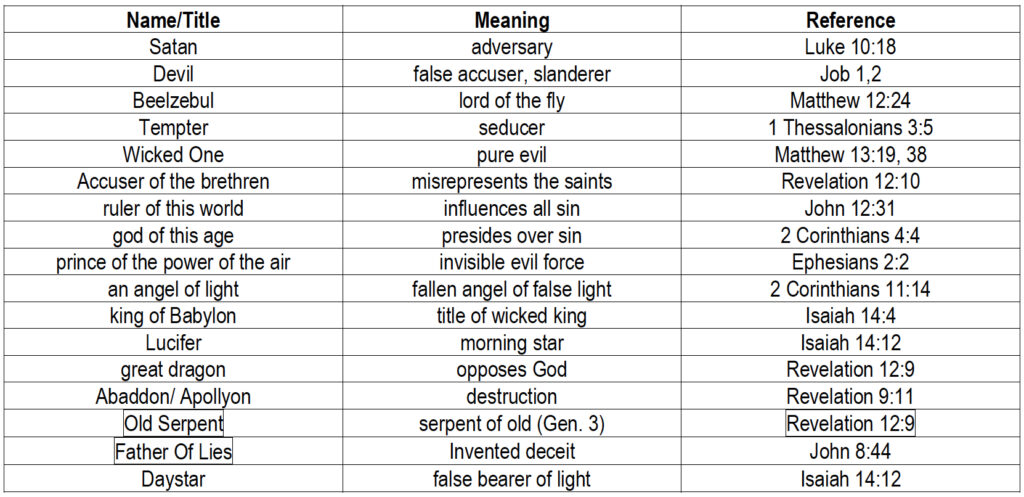 Revelation 12:9 - 12 (NASB)
9And the great dragon was thrown down, the serpent of old who is called the devil and Satan, who deceives the whole world; he was thrown down to the earth, and his angels were thrown down with him.
10Then I heard a loud voice in heaven, saying,
"Now the salvation, and the power, and the kingdom of our God and the authority of His Christ have come, for the accuser of our brethren has been thrown down, he who accuses them before our God day and night.
11"And they overcame him because of the blood of the Lamb and because of the word of their testimony, and they did not love their life even when faced with death.
12"For this reason, rejoice, O heavens and you who dwell in them. Woe to the earth and the sea, because the devil has come down to you, having great wrath, knowing that he has only a short time."
Even today Satan has access to heaven, where he accuses God's people; His strategy is to persecute God's people and destroy them if possible.
1 Peter 5:8 (KJV) 8Be sober, be vigilant; because your adversary the devil, as a roaring lion, walketh about, seeking whom he may devour:
1 Peter 5:8 (NLT) 8Stay alert! Watch out for your great enemy, the devil… Devour = intimidate, disable, damage, wreck, tear down, compromise
Job 1:6 - 12 (NLT)
6One day the members of the heavenly court came to present themselves before the LORD, and the Accuser, Satan, came with them.
7"Where have you come from?" the LORD asked Satan.
Satan answered the LORD, "I have been patrolling the earth, watching everything that's going on."
8Then the LORD asked Satan, "Have you noticed my servant Job? He is the finest man in all the earth. He is blameless—a man of complete integrity. He fears God and stays away from evil."
9Satan replied to the LORD, "Yes, but Job has good reason to fear God.
10You have always put a wall of protection around him and his home and his property. You have made him prosper in everything he does. Look how rich he is!
11But reach out and take away everything he has, and he will surely curse you to your face!"
12"All right, you may test him," the LORD said to Satan. "Do whatever you want with everything he possesses, but don't harm him physically." So Satan left the LORD's presence.
Several important truths emerge from this scene:
God is in control of all things. He is on the throne of heaven, the angels do His will and report to Him, and even Satan must submit to God. "The Almighty" is one of the key names for God in Job; it is used 31 times. Remember, no matter what happens in this world and in our lives, God is on the throne and has everything under control.
Satan can touch God's people only with God's permission, and God uses it for their good and His glory.
Some of the so-called tragedies in the lives of God's people have really been weapons of God to "still the enemy and the avenger" (Ps. 8:2).
Psalms 8:2 (NLT) 2 You have taught children and infants to tell of your strength, silencing your enemies and all who oppose you.
We may not know until we get to heaven why God allowed certain things to happen. Meanwhile, we walk by faith and say with Job, "Blessed be the name of the Lord."
Ephesians 3:10 - 11 (NLT) 10God's purpose in all this was to use the church to display his wisdom in its rich variety to all the unseen rulers and authorities in the heavenly places.
11This was his eternal plan, which he carried out through Christ Jesus our Lord.
Satan has access to God's throne in heaven. Surprise! . Today, he is free to go about on the earth (Job 1:7; 1
Peter 5:8) and can even go into God's presence in heaven.
Satan will not be cast into the lake of fire until before the final judgment (Rev. 20:10)
Very important: God found no fault with Job, but Satan did. God's statement in Job 1:8 echoes the description of
Job in verse 1, but Satan questioned it. The word "Satan" means "adversary, one who opposes the law." Satan said "Guilty!" because he is the accuser of God's people and finds nothing good in them (Zech. 3; Rev. 12:10).
Satan's accusation against Job was really an attack on God. We might paraphrase it like this: "The only reason Job fears You is because You pay him to do it. You two have made a contract: You protect him and prosper him as long as he obeys You and worships You. You are not a God worthy of worship! You have to pay people to honor You."
Zechariah 3:2 (NLT)
2And the LORD said to Satan, "I, the LORD, reject your accusations, Satan. Yes, the LORD, who has chosen Jerusalem, rebukes you. This man is like a burning stick that has been snatched from the fire."